CrossT Kids Church is Exciting, Entertaining, Creative, Engaging and Deeply Spiritual. The Bible is the focus and the authority for all of our children's programs. We are building young disciples for Christ and spiritual champions that can influence our culture and make a difference in our world.

CrossT Creation Cove
CrossT Early Childhood departments for ages 1-3, offer an extremely unique method of discipling young children. Imagine tiny kids sitting through a 30-45 minute Bible lesson!?? It is not only possible, but it is demonstrated every Sunday at CrossT. Our curriculum and programing for the youngest in our ministry, leads them through a time of discovery in newly designed, inter-active classrooms, led by loving and caring adult facilitators.

CrossT Kids Church
CrossT Kids Church is for ages 6-10, Kids are led into the presence of God with exciting contemporary worship and then are taught the deep truths of God's Word through Dramatic StoryTelling, Object Lessons, Drama, and Video. Our CrossT Kids Church uses the dramatic arts to bring the Bible to life for the kids of Indiana. One truly unique feature of CrossT Kids, is the School of the Holy Spirit, where kids are taught to experience the glory of God through learning to move in the gifts of the Spirit. CrossT Kids Church is unique and deeply impacting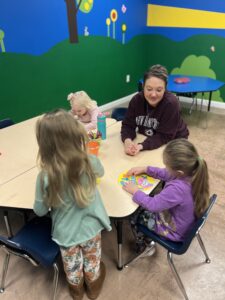 CrossT kinder kids is a department for kids ages 4-6. Kids are taught the different sections of the Bible, asked questions and rewarded on what they learn every week, led in praise and worship, and create a craft to help them remember what they have learned about the Bible and what it teaches them.